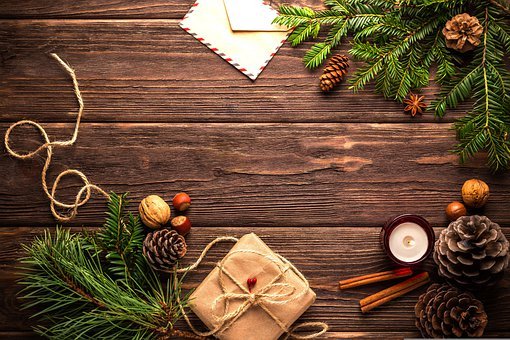 A year ago, five ladies sat around my dining room table enjoying a meal on Christmas china under dangling ornaments from the chandelier. It was then that I revealed my wild idea to use Christmas money gifted from my mother to go to Lafayette, Louisiana. I wanted my friends to be immersed in Christmas, and I could not think of a better place. I planned to stay in the B&B that I had been to before. It would be a fun girls' getaway and a unique holiday season celebration. I would introduce them to bayous, etouffee, and crawfish farms. The plans were set in motion the following summer.
Flying seemed the better option than driving because of the distance and time. I purchased airline tickets, rented a minivan, and reserved two cottages at Maison d'Memoire B&B in Rayne, Louisiana. As the time approached, one in our party of five sadly had to drop out.
Finally, the day arrived. The four of us met at the airport. Flight delays and a negative experience with TSA put a damper on Day 1, but it turned around with a delicious Cajun dinner of gumbo, fish bites, and shrimp pasta.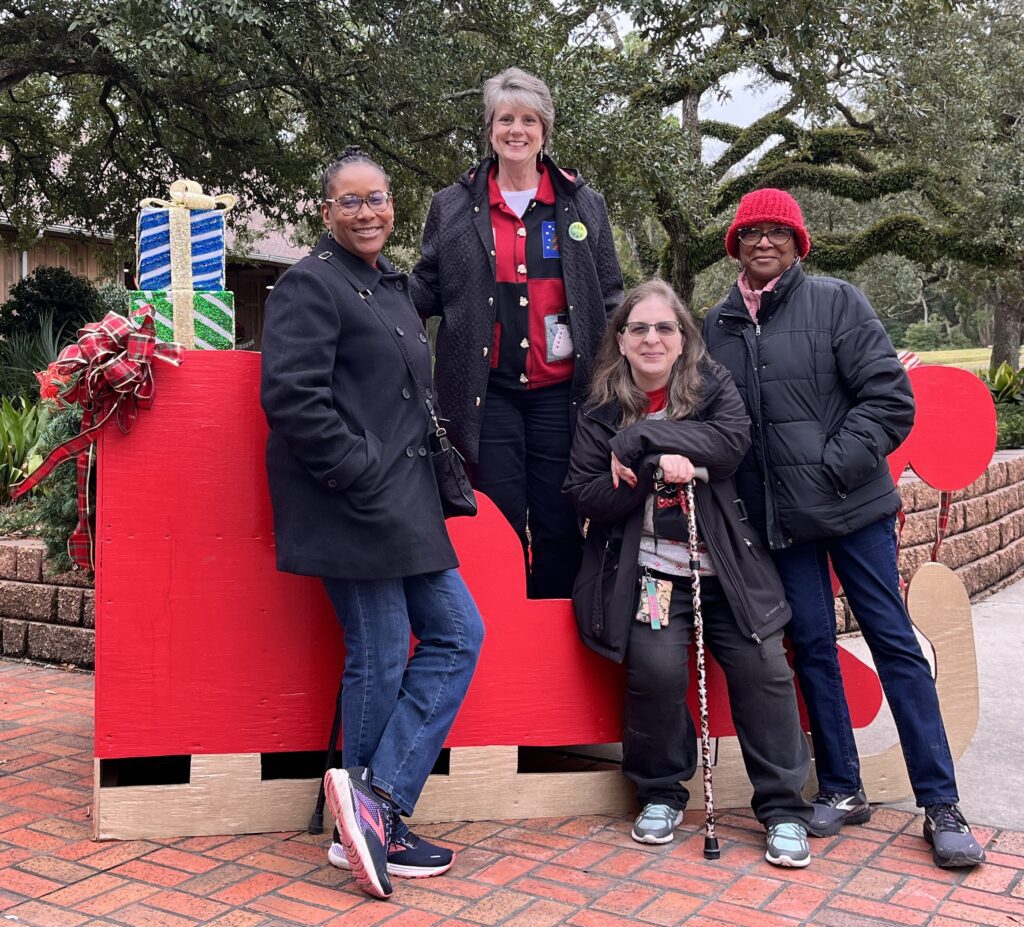 Although we arrived late to our B&B, it made it all the cozier as we walked in to a lighted Christmas tree with a background of Christmas music. Our cottages were not only adorable with antique accessories and slightly creaking floors but also historic at over 100 years old. They were modernized enough to be comfortable yet flaunt their charm and character.
The next morning our gourmet breakfast of Prairie Casserole, fruit, and honeybun coffee cake was delivered to our door. Sharon and I enjoyed ours in our breakfast nook overlooking the lake. As I peered over the lake, I could not help but praise the God of creation, the giver of life, and the author of peace.
A Glimpse into Cajun Culture
After breakfast, we gathered to head out for a Cajun swamp tour. Selina and Senora did not look forward to this, but they politely silenced their concerns and took a seat in the glorified fishing boat.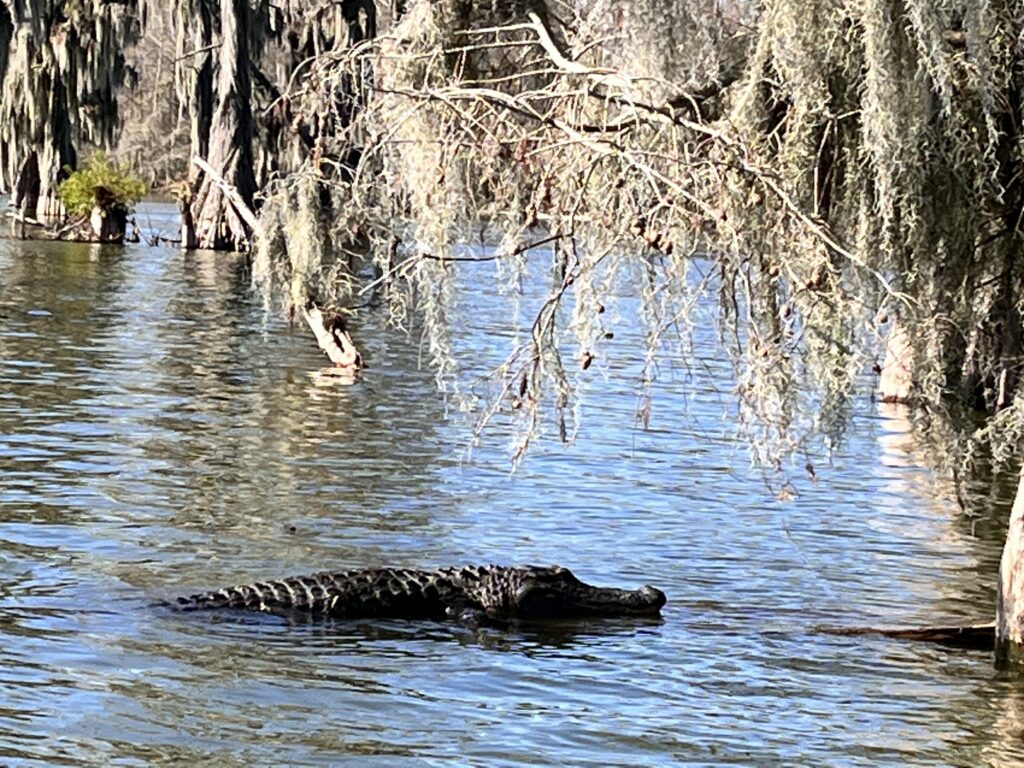 The swamp was filled with trees covered in Spanish moss weeping over the water. We weaved through the swampy aviary spying osprey, snowy egrets, eagles, and a majestic great blue heron. With the sun shining, it wasn't long before we set our sights upon the first alligator perched on a log. We saw several, one over 9 feet long. We learned that gators must be approached slowly from the side to accommodate their vision. We also learned that basking in the sun is necessary for an alligator to reach an internal temperature of 76 degrees in order to digest its food, or else it will rot in its belly and cause death. We thank our guide, Brett, for the 1.5 hours of cultural enlightenment. By the time it was over, Selina and Senora were glad they had come.
Upon the advice of Brett, we ate at another nearby Cajun restaurant. I thoroughly enjoyed my Crabmeat Au Gratin with lump crab in a creamy white wine sauce. While eating, we noticed an alligator floating down the bayou. It's not every day you see a sight like that! Serendipity from God.
After lunch, we strolled the houses in Acadian Village, depicting the Acadian way of life. It was interesting to see them during the day because the houses were lit up with Christmas lights that night. A walk-through path led to lighted displays of Santa, elves, gators, and a church. A fairground was available for kids. Funnel cakes, caramel apples, cotton candy, and popcorn were enticements to take your money for this worthwhile fundraising event.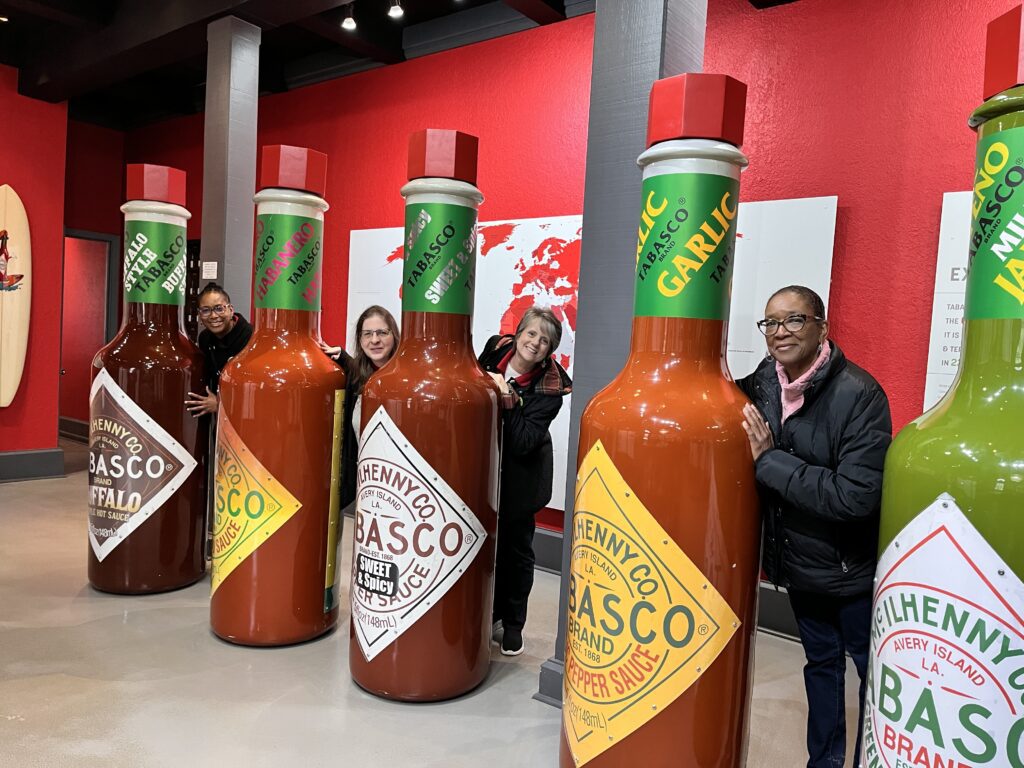 A good night's sleep prepared us for our next adventure to the Tabasco factory and jungle gardens on Avery Island. The Tabasco factory documented the history of the flavorful pepper sauce. We learned it takes five years for a bottle of Tabasco sauce to hit the grocery shelf. We toured the stations it goes through, including planting, prepping the mash, storing it in salt-covered white oak barrels, mixing it with vinegar, and bottling and shipping it worldwide. Did you know there are seven different kinds of Tabasco sauce? After eating lunch in the 1868 restaurant (the year Tabasco was created), we spent time in the Tabasco store and sampled Tabasco-flavored ice cream. Sounds awful, right? Wrong!
Another delicious Cajun meal topped off the evening, followed by a special birthday party for Senora. We sliced a buttercream frosted cake wishing her a "Merry Birthday," and presented her with a bouquet and a few well-traveled gifts.
On the way home, we reflected on the blessings of our Cajun Christmas, the joy of developing friendships, and the fun we had in unexpected things. While our trip was a wonderful experience, Christmas's real joy comes from having Jesus Christ in your heart. "You will show me the way of life, granting me the joy of your presence and the pleasure of living with you forever." (Psalm 16:11)
May you know the joy of His presence and the pleasure of His company as you celebrate this Christmas. Merry Christmas.
Ewe R Blessed Ministries / Karen O. Allen