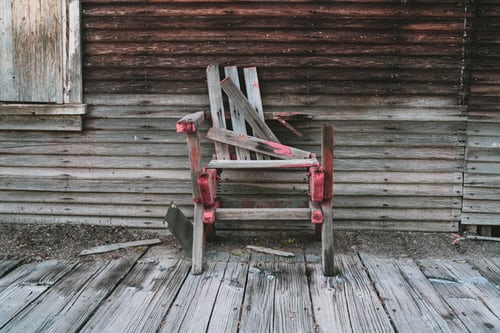 When considering how best to address the New Year as well as a new decade, the idea of restoration came to mind. Perhaps some of us feel the need of a little restoration to face the challenges 2020 will bring. The word "restoration†brings comfort and reassurance accompanied by positive overtones. There is also the implication that something once there has been lost or damaged and is in need of, well . . . restoration. Another way to look at it is to visualize a remnant of an original item that eagerly awaits a facelift when the time is right. One definition of a remnant is "a small part of something that remains after the rest has gone.†I am reminded of the many references to "remnants†in God's Word and how He used a remnant of people to carry on His purpose and reveal His glory here on earth. Remnants are precious things.
Timing and commitment are crucial in the restoration process of remnants. If both are not right, it is doomed to failure. Partial restoration is a possibility but this somehow seems unfulfilling. The full potential of restoration cannot be met unless it has the right timing plus a dedicated commitment to getting the job done.
Restoration has an ultimate goal but there are subtle distinctions as to how it is achieved. From my perspective, the purpose of restoration falls into one of three categories:
1) Reconstruction or rebuilding
When something has been reconstructed due to having been destroyed, it is usually built stronger to withstand those same forces again. Natural disasters have brought on the rebuilding of many a home and business. The intention of the restoration process is to fortify the weaknesses and waylay the same vulnerabilities. Oftentimes, there is a difference in the materials used but many of the basic supplies are still utilized. The framework and foundation may or may not remain intact. Following the restoration, the "product†appears clean and finished demanding respect and admiration.
2) To recover the luster or function of that which is in disrepair or bad shape
A piece of antique furniture found to be worn, disabled, or tarnished falls into this category. Its original beauty can be rediscovered after a considerable amount of effort. Maybe a polishing job is enough or maybe it requires stripping and re-staining followed by finishing coat. The restoration process may be easy and short or long and hard. Either way, the eye of the beholder is pleased.
3) To remodel
"Fixer-upper†homes are a prime example of this. Restoring a structure like this requires much skill, creativity, and a personal touch to achieve the desired result. Many improvements are made with the finished product garnering pride from onlookers. This type of restoration likely involves more than one person as does reconstruction/rebuilding but each person shares a common goal.
Each of these scenarios is grounded in the same goal yet the approach is different. Let's look at each one a little closer. The first indicates something that has been torn down and must be restored from the bottom up as in a tornado-damaged house. The second description indicates something that is already there but must be brought back to its original, more perfect state. And the last description, similar to the first, indicates a pre-existing structure that requires improvements to be made within its walls. Improvements in something that already exists versus reconstruction/rebuilding on something that no longer exists are different.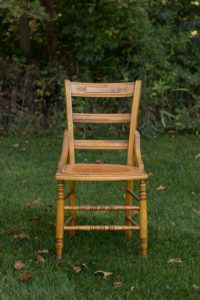 So what about the efforts involved in each of these three purposes? I know nothing about reconstruction but I would imagine the first purpose of restoration would be the most difficult and the most time-consuming while the second would be the least although still with a great amount of effort. The third purpose is somewhere in between the other two. However, I suspect an enhanced personal touch may be in order when it comes to remodeling.
Regardless of the type of restoration employed, the outcome is the same – a finished product resembling its original intention and appearance. A few flaws may exist here and there but these blemishes can add to the beauty of the product. A quality of rarity incorporating blemishes makes it like no other. Such imperfections render the product more "real†and possibly more acceptable, relatable, and/or sympathetic. Some folks may be drawn to the product's blemishes more than to the restorative aspects. Interestingly though, it is the restorative aspects that make the blemishes now appealing! Hmmm . . . think about that for a moment. What's even more interesting is that the product appears to display those blemishes without shame or fear of retribution now that it is encased in a restored shell. Cool, huh?
I hope you have been able to discern a spiritual correlation with the various processes of restoration. If you missed it, reread the words with a different mindset. "Create in me a clean heart, O God. Renew a loyal spirit within me†(Psalm 51:10). Whether more time is required, more people involved, more or less effort given in each of these areas, the end result is worth it. A beautiful product is restored – smooth to the touch, easy to admire, and of higher quality. Value has been enhanced, too, though the product core did not change, only the appearance.
Another not so obvious correlation may be that of the triune nature of God. You see, each entity of God, the Father; God, the Son; and God, the Holy Spirit is different, yet the same. Each operates in synchronization with the other using different approaches to achieve an end result. The Holy Spirit has many attributes to address our needs (e.g. Comforter, Encourager, Advocate, etc.) Sometimes we just need the reminder of God's Sovereignty. The endorsement of Jesus as Lord of our life or his endearing friendship to sinners may be our solace.
I wonder if restoration is needed for your spirituality in 2020? "Behold, I will do something new, now it will spring forth†(Isaiah 43:19).
Ewe R Blessed Ministries / Karen O. Allen