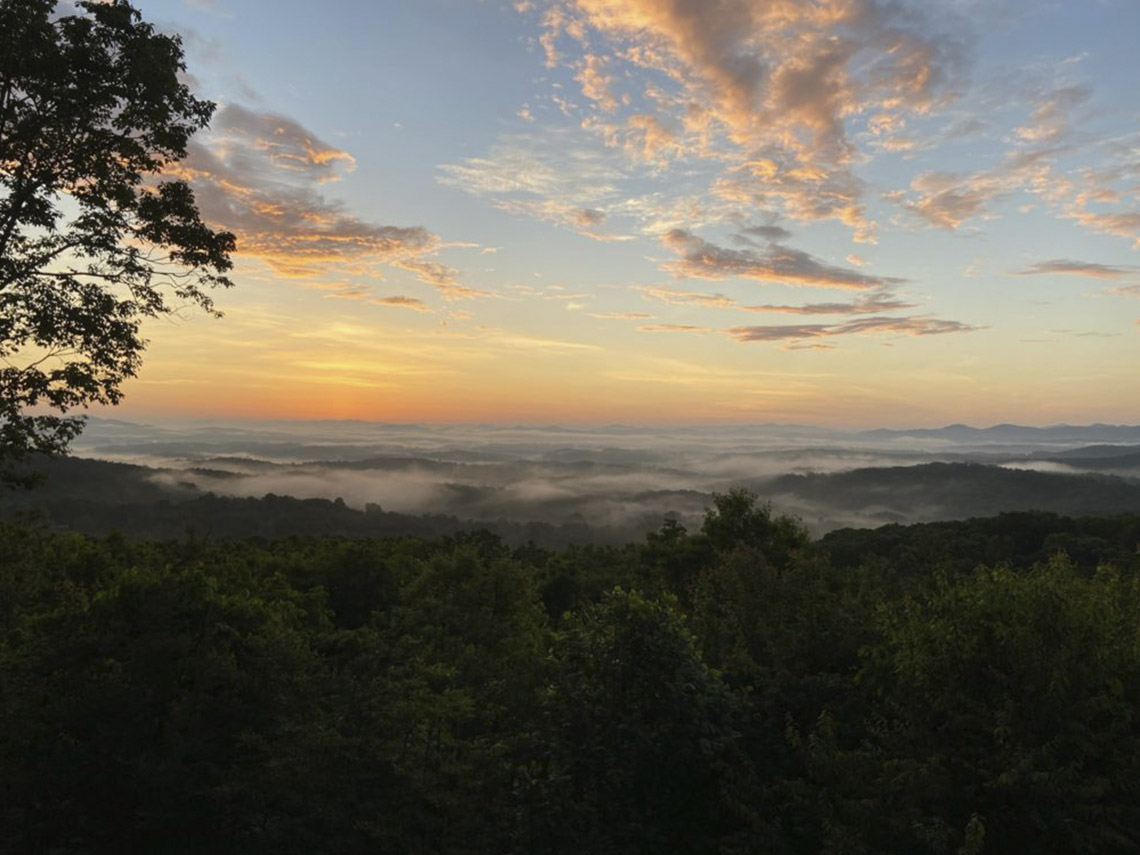 In the last blog I wrote about the beach and mentioned that if given a choice, I would be more likely to head to the mountains instead of the beach. Well, guess what? I just spent a long weekend in the beautiful Blue Ridge Mountains of North Georgia. Four of us, dubbed the Pea Pods (Brown Sugar Pea, Sweet Pea, Plump Pea, and Plus One Pea) headed to the mountains for a time of refreshment and fellowship. Our luxury log cabin had a magnificent view hence the cabin's name, Forever View. We planned the trip at the initial onset of COVID-19 not knowing how complicated the world would become. At that time we were ambivalent about whether to go to the beach or the mountains. We decided on the mountains which proved to be an understated blessing. Our cabin fostered isolation and greater protection from humanity. Each Pea Pod had her own reason to temporarily escape her lot in life: from yearlong job-hunting, grief over a recently lost loved one, work stress and fatigue, and a desire to break the monotony at home. Four women – two black and two white – sought refuge in the beauty of God's tree-clad scenery.
The blessings of our trip were subtle yet they linger even now as I write. I know the Lord cares about the details of our lives, even the smallest, and this trip proved it once again. "The Lord directs the steps of the godly. He delights in every detail of their lives†(Psalm 37:23). We took cards and board games but not a second was given to such matters. Instead, we entertained ourselves in different ways including sitting in the rocking chairs chatting while gazing at the forever view from our porch. On Sunday we listened to the preaching of a black pastor inspiring us to be better individuals and servants for God. I gave a manicure to the hands of one who had been busy cooking and preparing meals for the elderly of her community. Some of us enjoyed a hiking trail as we mingled thoughts with God and each other. Laughter was a common thread bringing healing and restoration. "A merry heart doeth good like a medicine . . .†(Proverbs 17:22). The glorious Jacuzzi bubble bath with its menagerie of candles was an added plus and the joy of women shopping requires no further explanation.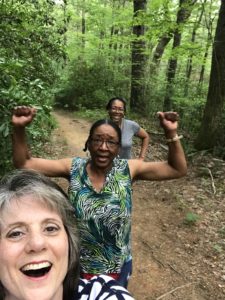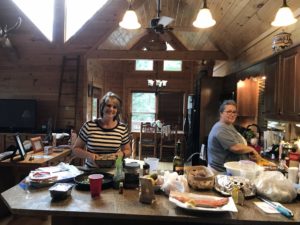 At mealtime, I incorporated a conversation starter. The four of us discussed spiritual intimacies as we took turns randomly selecting a faith-based Penny Stone from the bag I had taken. They said things like: what nature reveals about God, how you handle temptation, why pray if God already knows, and what's important to God. Needless to say, we learned things about each other. Good things, interesting things.
One of the Pea Pods loves to cook and used her gift to prepare delicious meals from fresh-made ingredients. We delighted in Shrimp Louis salad, crawfish/shrimp etouffee, and frittata with fresh herbs. We had enough food to feed a small squadron! To be fair, we didn't put all the cooking on her; we each pulled our weight as we implemented our own cooking styles – yet another blessing showing how God designs us individually. "Taste and see that the Lord is good†(Psalm 34:8).
I especially appreciated how God interceded in the weather to hold off the rain at just the right times despite daily rain predictions. We had perfect overcast skies mixed with beautiful sunshine throughout the weekend. O, me of little faith. Isn't it just like God to laugh at man's predictions transposing them into His mysterious and marvelous plans?
My favorite blessing turned out to be completely unanticipated. Since our cabin had a fire pit, I wanted to build a fire and have s'mores one night. Typically, my Eagle Scout husband does the honors but he wasn't there. I gathered wood and pulled apart splinters by hand to create kindling. I also sorted twigs and sticks of graduating sizes. Mimicking my resourceful husband, I built a small tee-pee of the splintered wood and lit a match. It burned freely as predicted but then the larger pieces did not. We resorted to wadding up what paper we had but to no avail. I sadly admitted defeat realizing the firewood was damp from the afternoon's light shower. I resolved to try again tomorrow. This time, however, I would swallow my pride and dismiss my survival camping skills to utilize surefire tactics. (Talk about a great pun!) I purchased lighter fluid, fire sticks, and burning charcoal. If that didn't do the trick, nothing would! Once again I collected small sticks and splintered wood. I soaked the large wood logs with lighter fluid and did all the right "wrong†things. I'm sure my prayers didn't hurt either. Before long, my fire was blazing like my husband's. He would be proud. I couldn't resist texting him a picture. To my surprise and disbelief, Brown Sugar and Plus One Pea Pods had never experienced a campfire before. They watched in amazement as I scurried about arranging the wood and fanning the flames. Even better was the fact they had never toasted a marshmallow or made s'mores! I was honored to be the first one to show them how to assemble a perfect s'more. We sat around the fire, burning all of the wood and watching the embers collect. They learned the value of hearing the cares of the world crackle and pop in the heat of a flickering flame. We also enjoyed the twinkling of the stars in the dark night sky – something my friends were not accustomed to seeing living in the city.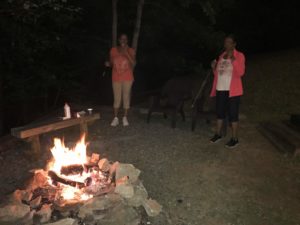 Sometimes we look for God's big blessings but those little blessings have their place, too. Those little blessings throughout the weekend served a big purpose. "Those who refresh others will themselves be refreshed†(Proverbs 11:25). No doubt we left refreshed ready to go about our business of refreshing others again in our own ways.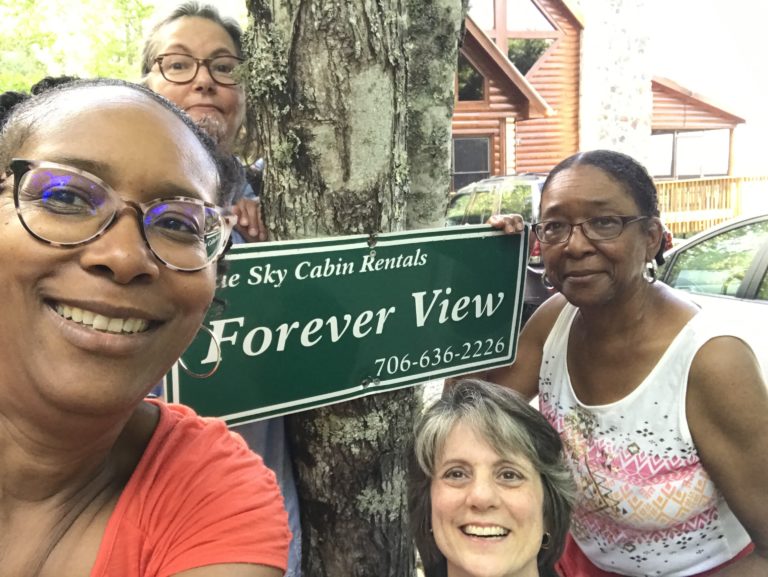 Ewe R Blessed Ministries / Karen O. Allen