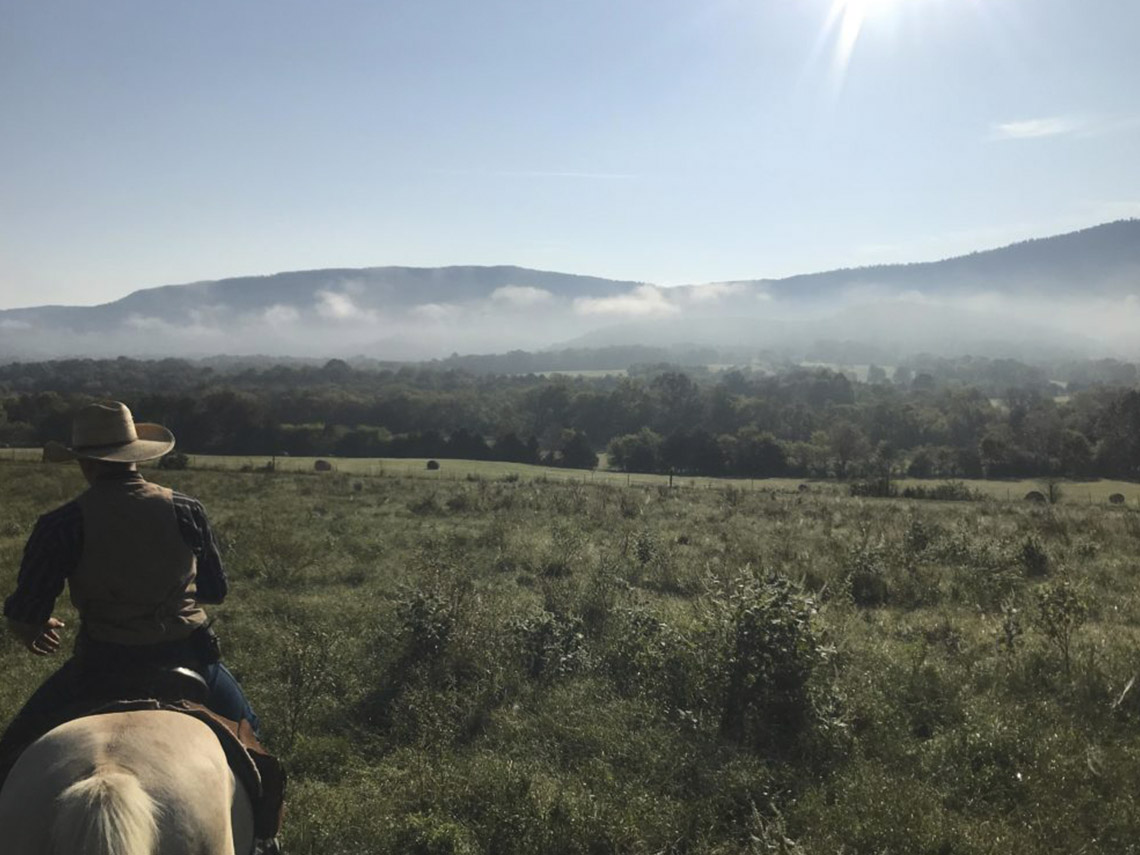 Howdy partners! Saddle up for a ride on the ranch. Can you tell I just got back from a dude ranch? I wrangled another dudette to go to the rolling hills of the Sequatchie Valley in Tennessee. We turned our disappointment into an adventure when our mission trip to New Orleans was canceled due to a hurricane. My friend Sharon helped me lasso my 40-year-old bucket list dream. I found the perfect dude ranch (excuse me, guest ranch) without going West. A working Christian ranch, no less, complete with a "horse†Bible study by the river. Yippee-ki-yay!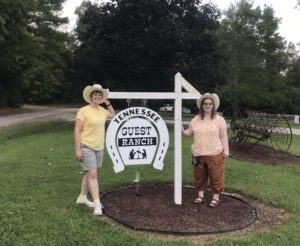 Loaded with boots, jeans, and cowgirl hats, we set the GPS for "Dude Ranch Dream Vacation†and headed out. We pulled off the dusty trail and greeted our wrangler, Stu, who was waiting for us on his horse, Haggai. We unpacked and were led to our cowboy-themed room equipped with a junkyard restored claw-footed ceramic bathtub. Ooo-doggies, you can bet we had some muscle-soaking, sweet-smelling, wash-tubbing going on.

After supper, we met our horses, Exodus, and Socks. We would be semi-responsible for their feeding, watering, cleaning, and grooming during our stay. Socks had quite an active digestive system so I had my mucking cut out for me. We were surprised to learn how much (15 pounds of hay) and how often (3X/day) horses eat. In addition to hay, each horse required specified grains, vitamins, supplements, and nutrients. A barn chart identified the dietary dispensations. Medications were given, too, as needed. Sweetpea required three different eye meds four times a day due to problems caused by human-induced allergies. Her swollen eyes and head mask made me sad. God's half-ton, power-packed, four-legged creatures sure 'nuff need a lot of TLC.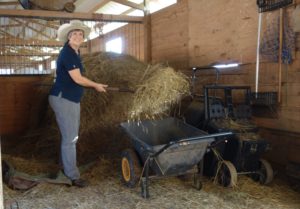 Training, mounting, and riding my horse was a joy and personal victory. Stu ignored my wide eyes when he told me to "just swing my leg over Sock's back.†That used to be easy. Nevertheless, Stu was a gentleman and helped make it happen. He made sure I was ready before we hit the trail.
Cow milking was every bit as structured as horse tending. Dairy Queen was led into the gate and fed the designated regimen of flakes and scoops as Stu cleaned her underside and checked for mastitis. He demonstrated the thumb and forefinger clasp-and-push method making milking look as easy as squirting icing onto a cupcake. I took a seat on the upside-down bucket and gently grabbed a teat and began squirting. Success! Sharon and I were calculated and slow while Stu maintained a steady stream from two teats simultaneously. (Show-off.) Had it been up to us dudettes, DQ would never return to the pasture as it would be time for the next milking. We collected three gallons of milk. The same process would be repeated that evening. We were told DQ could produce up to ten gallons in one day. Holy moly milka-mighty!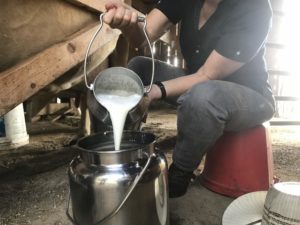 Cheese and butter came next. After allowing the milk to sit for at least 24 hours, a cream layer forms. The cream is removed and placed in a mixer for up to 30 minutes forming butter. If the mixer is unavailable, the cream is placed in a churn and beat for two hours. Guess which method is preferred? Cheese is made from heating the milk to a specified temperature. Vinegar is added causing coagulation. The vinegar is then filtered and seasonings are added. Cheese and butter were made every day along with sour cream and yogurt on occasion.
Feeding and watering the chickens, the sheep, and the goat were among the easier chores. The sheep and goat got fresh lettuce with their oats while feed was tossed to the chickens. Several beautiful breeds of chickens squawked around our feet, two of which had plume-like head feathers as if a boa was wrapped around them. Some chickens were white while others had spotted feather coats. One breed was known as the Easter Egg chicken and laid a variety of colored eggs (white, brown, blue, and green). The eggs lay exposed on top of the shavings making them easy to find. I picked up one that was still warm and felt a little guilty.
Bread-making awaited in the kitchen. Fresh bread with freshly-ground flour is made every day at the ranch so, of course, we tested our culinary skills. Aprons and gloves donned, we went to kneading. Just as I tossed my loaf in the pan, Trish says, "Gently lay the bread roll in the pan.†Oh well . . . so much for bread-making.
Food preparation on the ranch was non-stop. We had chuck wagon meals, homemade tortillas, grilled fresh beef burgers, and southwestern potatoes. We rolled oats for oatmeal one morning. Campfire singing followed in the evening accompanied by our hand of washboard and spoons. Roasting marshmallows and s'mores topped off the moonlit night.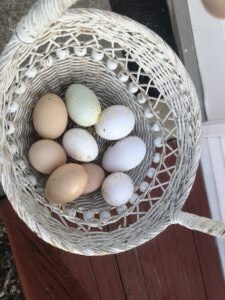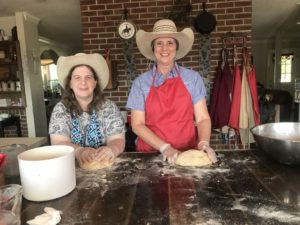 Sharon and I had the pleasure of experiencing Cowboy Church while we were there. About 100 people came to hear God's teaching using horses, see horse demonstrations, ride a pony, listen to live bluegrass gospel music, and dance the Cotton-eyed Joe. Each guest was greeted with Cowboy Caviar (corn salsa and chips) served chuck wagon-style followed by bbq chicken and fixins' in the barn. Line dancing was optional offering plenty of laughs and calorie-burning activity.
We left the ranch humbled and impressed. A warm satisfaction settled in my heart. I remarked, "We sure do owe a lot to the ranchers of our country.†I couldn't help but admire and appreciate firsthand what they do, how they do it, and why they do it. Ranchers are a chosen and gifted breed deserving our utmost respect. I view them, along with farmers, as being the heartbeat of our country. Equipped with passion, tenacity, wisdom, and lots of grit, they aren't afraid of hard and dirty work. I think they may actually crave it. Brawn and calloused tenderness pulses in their fingertips. A connection to the land and love for God's creatures is in their DNA. Ranchers have a unique blend of character and raw toughness you won't find in city slickers. I could sense how much they love the freedom of the open air, the smell of a barn, mud on their boots, and the bond with their horses. God bless the rancher and every member on his team.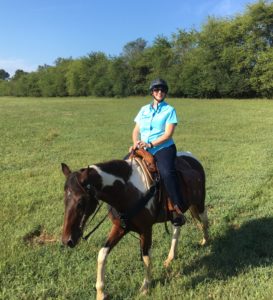 Ewe R Blessed Ministries / Karen O. Allen