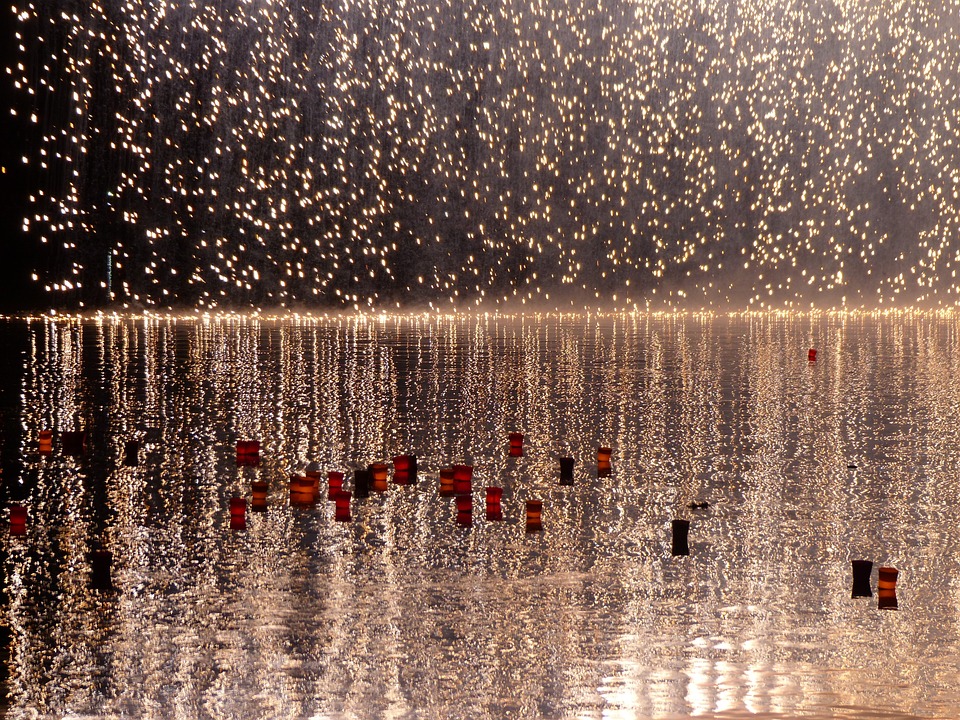 Holiday and Holy Reflections
As the New Year dawns, it is time to put away things of the past and look towards the future. Speaking of putting away things, I completed the dreaded task of de-Christmasing the house. Ugh! It's much more fun putting out decorations than it is putting them away. Removing ornaments and lights from the tree, dragging it out the front door, and driving it to the nearest recycling location is my husband's token task. He also removes the outside lights and the wooden angels, but everything else is left up to me.
This year I decided to make the laborious effort more enjoyable by fondly reflecting upon a memory connected to my Christmas treasures. For example, the Santa stockings with red velvet trim and script names were handmade by my mother-in-law. The stitching alone must have taken hours. Those stockings have been hung by the chimney with care for at least 30 years, long after Mrs. Allen took residence in her new home in heaven. She also made some beautiful hand-stitched Santa pillows. My mother-in-law was quite the seamstress. I wonder now if she ever saw me as a disappointment for her son (although she never said a word). I had practically no cooking and sewing skills. I couldn't make homemade spaghetti sauce or whip out a dress pattern on the sewing machine. I admired how she cared for her family.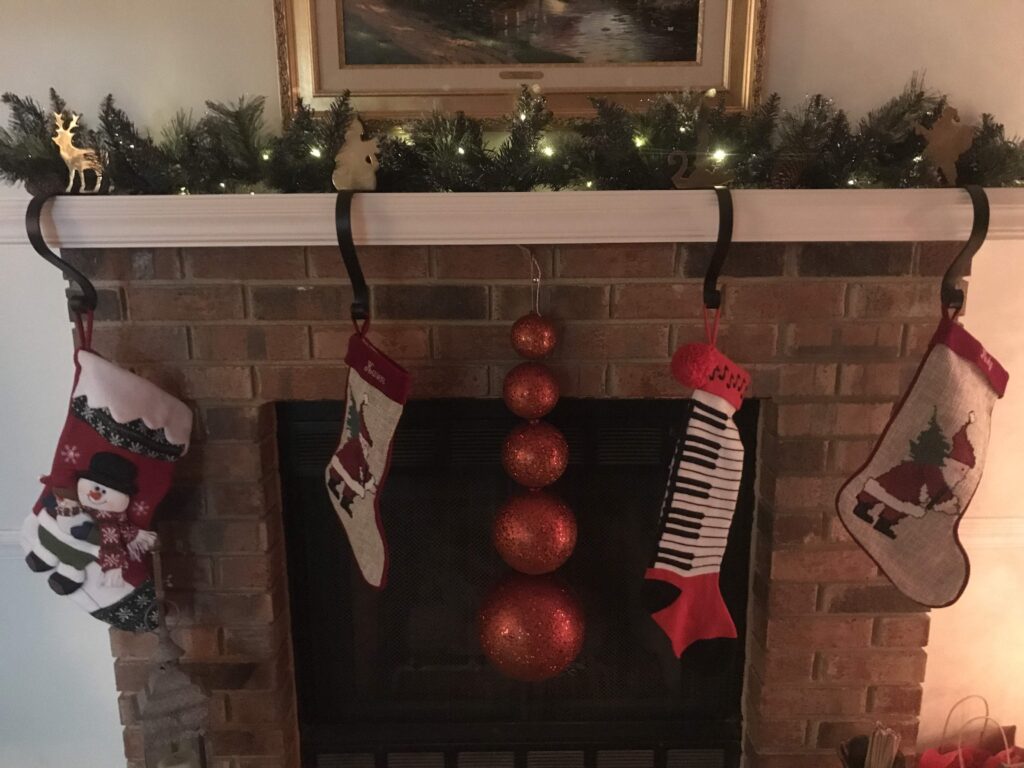 Oh look, there's the ceramic angel Saint Mavis made – at least, that's what I called her. I met Mavis Tennyson when I was a hospice volunteer. She cared for her husband, who ended up in hospice care for three years! She fed him through a feeding tube and aspirated his lungs as needed 24 hours a day. St. Mavis loved Christmas. She had made a cute ceramic Santa boot and a kneeling angel. The angel reminded me of her marital promise and our heartfelt visits long after her husband died.
The three ornaments hanging on a stand bring a sentimental tear to my eyes. They were from my Daddy. I still have the handwritten card that says, "Love Daddy." I love you, too, Daddy. The ornaments were bought when my parents went to Ireland. Daddy thought each of his daughters needed a set to commemorate our O'Kelley Irish heritage. As I read the Irish proverbs, I visualized my Daddy, who has been gone for over 20 years. "May the rains fall soft upon your fields. May God hold you in the hollow of his hand. And until we meet again." The last one gave me a strained smile as I thought about when and how we would meet again.
Over the years, I have developed a love for nativity sets from other areas of the world. I love how each has a unique design. The one from Alaska has an igloo for a manger with moose instead of sheep and a sign that says "North Pole." There's the one from Africa made out of twisted straw or some such. Each figure is relatively indistinguishable but handmade. I bought it when the Sozo children came to our church. Sozo means "to save." These children from Uganda have an incredible love for the Lord and express that through their singing and native dancing. I could not think of a better way to support them and take home a keepsake from the evening.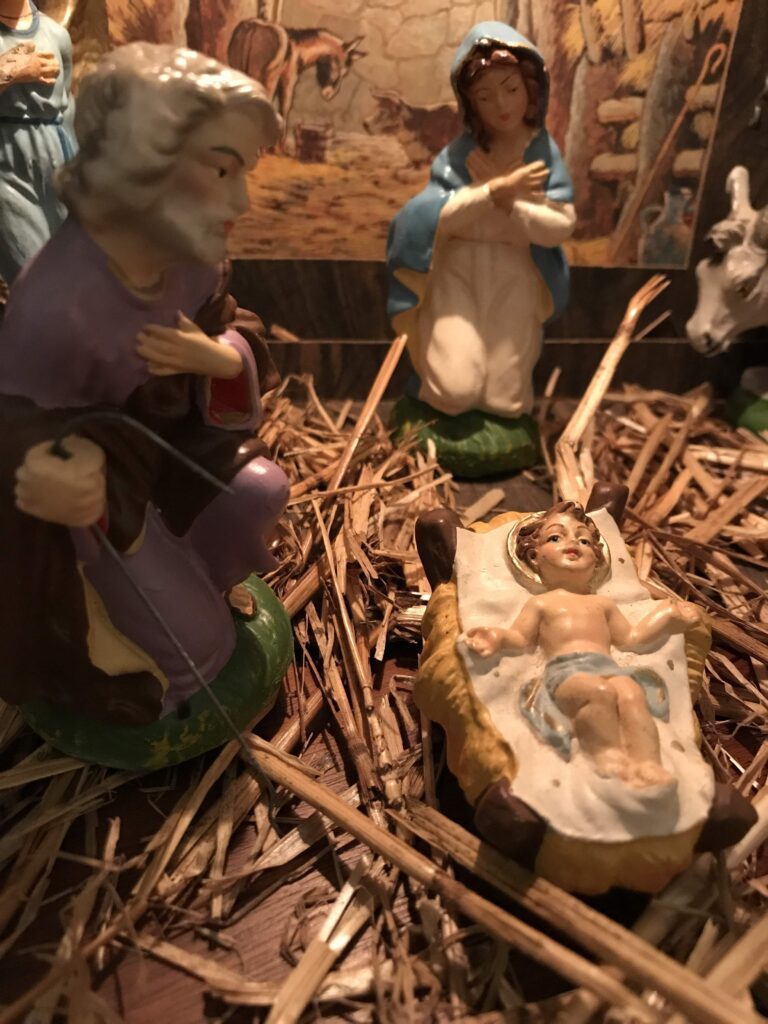 The only one-piece nativity I have is from the Vatican. My sister- and brother-in-law brought it back. I don't know how, but I am honored and humbled. The Honduras nativity is not too big; it was easy for me to pack from my mission trip. Then there's my favorite nativity made of pewter, our honeymoon gift to each other. It cost more than we had to spend, but I'm so glad Parky and I purchased it. Each small piece is detailed. Although the set is 40 years old, it looks as new as the day we bought it. I have taken care not to lose one little piece.
The furry wooden reindeer are a novelty item. I found them on our snowy family trip with my mother to Tromso, Norway, in search of the Northern Lights. We barely made it home from the Artic Circle before COVID shut down the world. Truth be known, we barely made it up there since mother was hospitalized with a TIA days before we left!
I love all of these Christmas treasures and their precious memories. I know that "we brought nothing into the world, and we cannot take anything out of the world" (I Timothy 6:6). Material possessions are temporal. "Do not lay up for yourselves treasure on earth, where moth and rust destroy and where thieves break in and steal" (Matthew 6:19). That's why we must love that baby born in the manger with "all your heart and with all your soul and with all your might" (Deut 6:5) so that "everyone who believes in him will have eternal life" (John 3:16).
Ewe R Blessed Ministries / Karen O. Allen