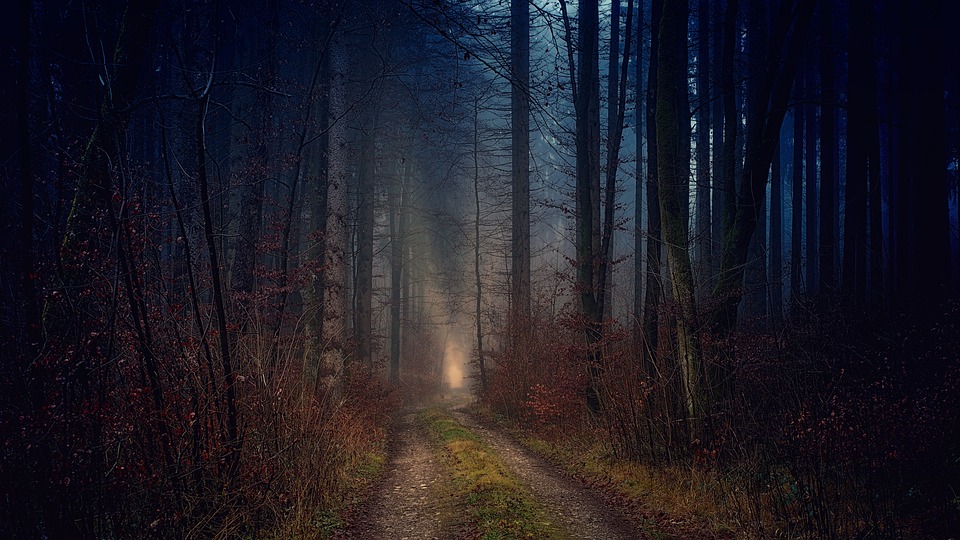 Lonesome Dove was the most luxurious house I had ever rented. It was a custom-built cabin showplace with five king-size beds and bathrooms, a large open family room, antler chandeliers, hand-crafted furniture with embedded fossils, a screened-in sunroom/porch, and a copper bathtub straight out of the Old West. Running water down either side of a faux mountain added to the charm. The $1.8 million house sat on 5.5 lush acres that featured a garden waterfall.
The smell of wood filled my nostrils the moment I stepped through the doorway. This was going to be one glorious Labor Day weekend for the five of us.
We spent the first evening dining on the patio of a local restaurant. The second night, strange things began to happen. Suddenly the television came on at a high volume of 92, startling me in the kitchen and my husband and sister-in-law sitting on the sofa. They jumped up, searching for the remote control. The tv turned itself off before finding the remote; then it came back on. The remote did not respond despite their best frantic efforts. Off again. This happened two more times before it finally stopped. We were annoyed but didn't think much of it.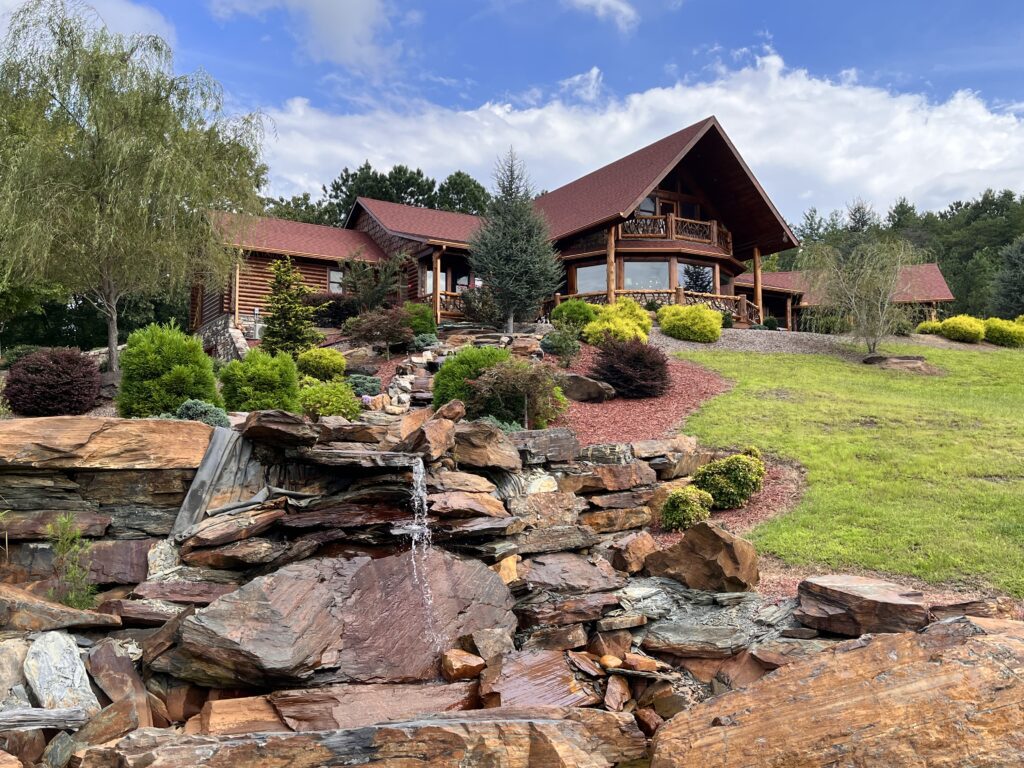 Later that evening, we heard two knocks at the front door. Parky opened the door, but no one was there. We heard knocking two more times as if it were on the side of the house. Then the knocking moved to the ceiling. Ok, an animal must be trapped in the attic. A pronounced knock pounded overhead about that time as if something heavy had been dropped. My brave husband opened the pull-down attic to take a look, turning on the attic light. Nothing.
On Day 3, I decided to put our fire pit to use. Parky built the perfect fire utilizing his expert scouting skills. Marshmallow roasting soon followed as we treated ourselves to a messy s'more. My friend Kathy and I lingered around the fire, sharing stories and laughter. Around midnight, we came inside. While searching for the light switches, the lights went off and then back on.
"Kathy, did you find the switch?"
"No," she said, "I didn't touch anything."
"Me either!"
We looked at each other with wide eyes. As we stood there, the lights went off and back on again.
"I'm going to bed," Kathy said with a hint of apprehension.
I found the switch, turned it off, and promptly went to bed. I couldn't go to sleep reliving the bizarre occurrences over the past few days. The words in Ephesians 6 came to my mind. "For we are not fighting against flesh-and-blood enemies, but against evil rulers and authorities of the unseen world, against mighty powers in this dark world, and against evil spirits in the heavenly places."
I wondered – are we experiencing a principality of the unseen world? I feel like it knows what is being said. So eerie. Does it seek our attention? Why are these things happening, and why are they happening at night?
If I had brought anointing oil with me, I would have anointed that house right then and there!
The next morning as I gathered leftover s'more fixins' to put in Kathy's bag, I noted that one of the Hershey chocolate bars was missing. I had only used one the night before, but two were gone. We laughed at how Kathy had drastically overestimated our usage. Perhaps she could return the unopened second packages of Hershey bars, marshmallows, and graham crackers. As I lay the opened packages in her bag, I noticed the second package of Hershey bars was open.
"Did anybody eat a Hershey bar?" I asked.
Determined to understand, I gathered everyone in the family room to ask again. "It doesn't matter; I'm just curious. Did any of you open a package of Hershey bars to eat one?"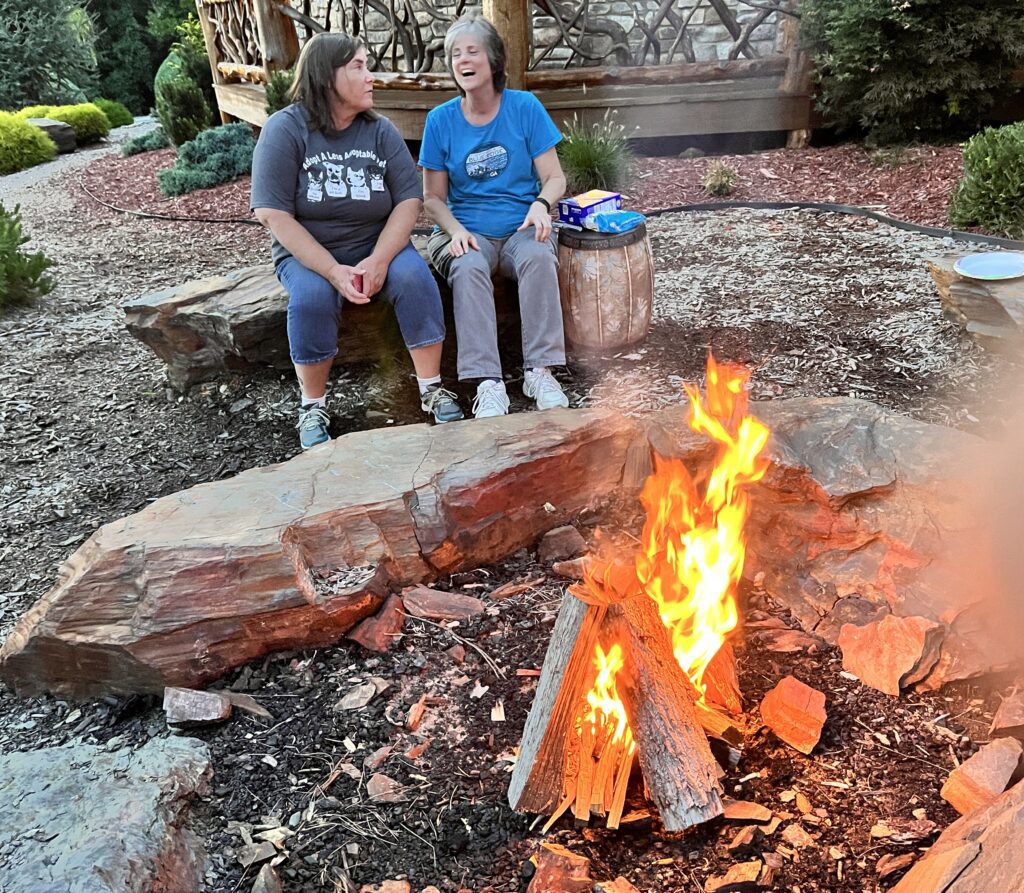 Nobody confessed, but four bars were unaccounted for – one from the package I opened and three from the "unopened" second package.
Now things have become more than just disconcerting weirdness. A television with a mind of its own, knocking noises, lights going on/off, missing candy bars. What's next?
Candy wrappers. Our mysterious guest appears to like chocolate. I discovered miniature Mounds candy wrappers lying around the house in odd places. I thought perhaps it was my brother-in-law, but I wasn't convinced.
Now y'all . . . I'm not one to dwell on the paranormal, but the idea of "authorities in the unseen world" led me to seek the Lord's protection. I found myself repeating the words Jesus spoke to Peter, "Get thee behind me, Satan." I prayed words similar to Psalm 16:7-8 as I lay in bed in the darkness of night: "I will bless the Lord who guides me, even at night my heart instructs me. I know the Lord is always with me. I will not be shaken, for he is right beside me."
The following day we said our goodbyes. Kathy texted me when she got home.
"Hey, my dogs loved the hot dogs."
"What hot dogs?" I texted back.
"The two you sent home with me in a Ziploc," Kathy said.
"I didn't send any hot dogs home with you! Maybe Cindy did."
I considered accepting the idea that my sister-in-law had bagged a couple of hot dogs for Kathy to take, but my desire to know the truth won out. I texted Cindy to ask.
"Got a strange question: Did you bag up two cooked hot dogs and place them in Kathy's bag?"
She responded, "Not me . . . could it be the ghost?"
"Yep, looks like it was!"
Ewe R Blessed Ministries / Karen O. Allen